With the fear of eviction from the Councils, most of our pups and dogs are fostered out. The two lucky ones who stole Mun Mun's and Yan Yan's heart after fostering them are Manda and Lei Lei. Their whole family adores the two of them and decided to keep them for good!
Mun Mun and Yan Yan having a fun time with the furry friends in the evening
Gentle Manda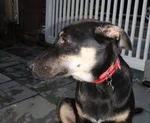 Adventurous Lei Lei
Lei Lei was found to be the mischievous one, but they are not giving up on her. She does her business in their room and helps in Gardening!
They are now considered as one of the family member and will be going back to their hometown in Kedah for Cheng Beng (Chinese's All Souls' Day)!
They have even make an appointment to spay Manda.
What a Happy Ending for these two lucky furry friends.
Well, we believe that if you are willing to give them a chance each and every dog will definitely melt your heart even though they are no longer a puppy.