Our pups and dogs are back . Thanks to all those who have helped us in times of need.
To the Prawn Pond Manager who allowed us to house all our mama dogs and their pups
Kim, for taking care of Macy and Chrissy in her dad's house. We know your dad was complaining, but you did a good job in pacifying him. Hope Chrissy did not help to harvest his crops in his vegetable farm.
Rena for the cheeky Leena, though you already have 4 of your own.(She can be your property if you are not returning her to us by this weekend.:)) hee,hee,hee…. cos we know you will treat her well.
Apple & Xuan,sorry your parents were not too happy. Luckily Mickey and Tigger are good pups.
Gim,woof,woof we know Kara was your sleeping partner for the week! Ha, ha ha….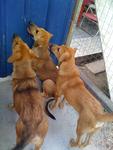 Eileen for getting a fosterer for the 3 seasons. They are still very happy running there.
Janice for keeping Peanut and last but not least our Thai neighbour for keeping Jimi White and Sulise for 2 nights.
We certainly hope all of them will be rehomed the soonest and do not have to trouble others. Wish Us Luck!!